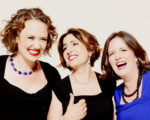 For those of us who occasionally crave a close-harmony dose of the Boswell Sisters or the Andrews Sisters in our cabaret-attending lives (and there may be more of us than we care to admit) Duchess will do nicely. And if any one of us desires a small dose of the tropical strumming of vintage Hawaiian music (even fewer of us will likely own up to that), this non-sibling girl trio can happily provide that, too. In fact, in their recent show at Jazz Standard, Melissa Stylianou, Hilary Gardner and Amy Cervini, who comprise Duchess, proved adept at close harmony employed in the service of a variety of expressions of mid-20th century American music. Oh, they may have reworked lyrics and tempos a bit, but their admiration for their predecessors, both singles and triples, was always evident.
The group began their show with Peggy Lee's set opener of choice, "I (We) Love Being Here with You" (Lee, Bill Schluger), which seems to have been over-appropriated of late as an opening song. But at least no harm was done to it in this outing, despite the addition of some New York City-specific lyrics. Duchess also resurrected the somewhat sexist Betty Hutton song about "a two-legged animal" from 1951, "It's a Man" (Cy Coben), and gave it three times the comic vitriol on such lyrics as "If it acts just like a crosspatch/Has a face with whiskers that scratch/If it's stubborn as can be, mean and ornery/It's a man." Proving anew that women can drink and sing at the same time, the Duchess trio also adopted the 1964 Frank Sinatra saloon song "Here's to the Losers" (Jack Segal, Robert Wells) with its optimistic line, "Here's to those who still believe all the losers will be winners, all the givers shall receive."
Duchess's direct homage to the Andrews Sisters was "Three Little Sisters" (Irving Taylor, Vic Mizzy, from the movie Private Buckaroo), one of their lesser-known numbers. The Duchess homage to the Boswells was more of a signature song and jazz standard, "Everybody Loves My Baby" (Spencer Williams, Jack Palmer)—albeit with additional and changed lyrics. The nifty Hawaiian tribute was "My Little Grass Shack in Kealakekua, Hawaii" (Bill Cogswell, Tommy Harrison, Johnny Noble), with the sole instrumental accompaniment of three ukuleles—two of them bass ukes–played by Duchess themselves. The highly supportive backup band for the rest of the program consisted of Michael Cabe on piano, Matt Aronoff on bass, and Jared Schonig on drums.
Kat Edmonson was their guest artist the night I saw the Duchess show. She brought with her a guest guitarist, Matt Munisteri, to augment the group's backup musicians. A compelling singer, Edmonson is also a songwriter whose performance contributed two worthy additions of her own composing to the proceedings: "I'd Be a Fool" and "If." The latter was inspired by "my love for the Ink Spots," the pre-doowop close harmony male quartet. She also soloed on the Duchess finale that night, the familiar Doris Day Oscar-winner "Que Sera, Sera (Whatever Will Be, Will Be)" (Jay Livingston, Ray Evans). At a slower tempo than Day's almost bouncy version, the song's lyrics shimmered and were rendered more meaningful in Edmonson's take. Munisteri's guitar solo on this number had an almost zither-like quality, which demanded attention on its own.
But I'm afraid that was it for the music, at least that night: just nine numbers taking up about half of the promised variety "hour." As for the rest of the show, Duchess badly needed a director, or at least an editor. Inane, largely irrelevant, patter, some of it read off index cards, was apparently supposed to pass for the "variety" portion of the program. While I didn't expect a juggler or an animal act, and I understand that Duchess is a jazzy group performing in a club with the word jazz in its name, the group's chat went far beyond the loosey-goosey between-songs talk sometimes employed by artists of that genre. Having mostly to do with drinking, men, prior gigs, and more drinking, the talking Duchess interludes also featured an unfortunate audience member who was called to the stage to be quizzed on which member of Duchess she thought had done which unlikely job in a prior life. As if that weren't sufficiently awkward and beside the point, Edmonson was similarly asked whether she preferred dogs or cats. Her answer, dogs, even though her name is Kat, didn't get much of a laugh. Nor should it have. The patter also had a mildly salacious tone: Stylianou referred to her group's style as ""girl-on-girl harmony." I would much rather have heard more about how Duchess got together and why three of them chose a singular name. Even more, I'd rather have heard more of their singing.
"The Duchess Variety Hour"
Jazz Standard – November 29-30
Category: Reviews