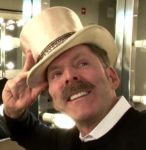 At Don't Tell Mama, Dr. Bradley Jones tells a familiar cabaret story in his show Dr. Bradley's Fabulous Functional Narcissism: Young man with troubled childhood dreams of being a performer, follows those dreams to New York City, works his way up to Broadway but fails—in spite of a decade long run in the original Broadway production of A Chorus Line—to parlay that into stardom and leaves to pursue other, if not greener, pastures; he then returns to performing to tell his story. I know of at least a half-dozen shows with this narrative that were presented in the last year alone. What sets Jones apart is that when he left theatre he became a psychoanalyst, and that he sets the show up as a self-therapy session/lecture with song and dance.
This structure offered great dividends in both laughs and songs. His delivery had a bitter, brittle surface that undercut the self-pity that is sometimes evident in this kind of endeavor. Whether recounting his youth with problematic parents, or telling of succumbing to the "casting couch," or talking about his descent into drugs and parties as a chorus boy, he remained the objective observer of the emotional and psychological journey he undertook. This tack had the strength of not wallowing in disappointments and loss; it also had the weakness of keeping the audience at a distance.
Every song was set up with some psychological underpinning in the patter, which, while remaining true to the concept of the show, often boxed the number into a corner. This didn't allow for much in the way of surprise or spontaneity in the interpretation. It often seemed that his analytical patter, even at its most humorous, was actually describing the subtext of the song to follow, leaving nothing for the audience to discover. On the other hand, there was also strong patter leading into songs that didn't deliver on the expectations that the patter engendered.
The most completely successful moment in the show (both narratively and musically) was Leiber & Stoller's "I've Got Them Feelin' Too Good Today Blues" sung and danced to a fare-thee-well. He did some marvelous musical archeology, unearthing Rodgers & Hart's "You Mustn't Kick It Around" (from Pal Joey) and "Very Soft Shoes" (Mary Rodgers, Marshall Barer, from Once Upon a Mattress). It was a pleasure to hear them in a cabaret, particularly when sung so well. The patter in and of itself was consistently funny, with a constant barrage of hilarious, Paul Lynde-like asides that never grew tiring. His Chorus Line memories had an insider's insight that was fascinating. I did find that the technical psychological jargon, even when satirically delivered, got to be a bit much at times.
It was perhaps a mistake in these therapeutic surroundings to concentrate so strongly on the works of Stephen Sondheim, who, more than all other theatre songwriters, creates his own finely delineated psychological worlds. Jones did a more-than-satisfactory-version of "The Road You Didn't Take" (Follies), but given its introduction, it turned out to be too much on the money, making the song seem redundant. A medley of "Loving You" (Passion) and "Sorry-Grateful" (Company), used to underscore his eventual meeting with the love of his life, became overstuffed with both his baggage and Sondheim's. "I Remember" (Evening Primrose) and "Anyone Can Whistle" suffered similar fates and seemed ill-suited to the plot points they were meant to illuminate.
Director KT Sullivan kept things moving at a brisk pace, although I might have wished for a bit of breathing room here and there. The band, christened The Freudians for this occasion, consisted of music director Mike Pettry on piano, Alden Banta on woodwinds, Jacob Silver on bass, and Zack Eldridge on percussion. They played well, but I found myself wishing that the singer had chosen to work with just a piano. The stage seemed crowded, as did the arrangements. Jones is a solid vocalist, but he pushed and over-sang in places, perhaps competing with the sound of the band. He also seemed hemmed in by the instruments and furniture on stage to really expand on his obvious dance skills. Such over-instrumentation has been a common misstep in cabaret in recent years, as if the number of people on the stage were somehow a measure of the importance of a project.
I would leave using a word like "Schizophrenic" to Dr. Bradley Jones and, instead, choose to describe the show as "uneven." I enjoyed it and I'm glad I saw it, but it needs a lot of work to bring the problem areas up to the level of the ones that work. It will be worth the effort because he has already shown that he has something entertaining and unique to share.
Don't Tell Mama – June 15, July 26
Note: An encore performance has been scheduled for September 16
Category: Reviews