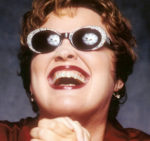 Early during the second show of her opening night at Birdland, singer-pianist Diane Schuur noted that second sets are good because you never know exactly what's going to happen with them. Certainly, she was in an anything-goes frame of mind. Playing to an appreciative 11pm crowd, she struck a highly informal tone, letting her instincts, moods, and whims dictate her musical program rather than relying on a prepared set list.
While we heard her vocals throughout the hour-long performance, her voice was mostly used for scatting aggressively while jamming with the other musicians, rather than for straight-ahead singing of discrete songs. Bronislaw Kaper's "Invitation" (which appeared on her 1999 album Music Is My Life) was one of the more appealing selections in this line. Schuur "bah-be-dahed" her way through the number, which sounded something like Kurt Weill's melody for "Speak Low" masquerading as the theme from television's Star Trek. Throughout the evening, her scatted vocals took on different patterns and textures. Sometimes she would mimic the riffs of saxophonist Joel Frahm (or he would echo her vocal embellishments). Sometimes she would sing in unison with her own improvised piano phrases. Schuur is not one to evade cacophony: There were plenty of squeals, honks, screeches, and growls to be heard during these scatted numbers. And at one point she uttered the phrase "popcorn, popcorn," apropos of I'm not sure what. She was also eager to interject musical quotations into the jams—and, it seemed, the upcoming holiday season was on her mind, as such quotations frequently involved Christmas songs. (In what was, perhaps, an ecumenical gesture, she also interpolated bits of "Hava Nagila" into two numbers.)
She even performed one entire holiday song: the A Charlie Brown Christmas TV-special favorite, Lee Mendelson and Vince Guaraldi's "Christmas Time Is Here," which became a duet of sorts for her and Frahm (this time on soprano sax). But, once again, she didn't sing the lyric—she only vocalized the notes. In a way this was wise, as Christmastime was definitely not here. In fact, Thanksgiving was still more than a week away. Nonetheless, I missed the chance of hearing her interpret lyrics. It wasn't, in fact, until midway through the set that she got around to the actual singing of words—on the ballad "Midnight Sun" (Lionel Hampton, Sonny Burke, Johnny Mercer). Unfortunately, she struggled repeatedly to recall the lyric. Nevertheless, the number was a welcome change of pace from her scat bits. She didn't really return to lyric singing until her final selection, a lively "For Once in My Life" (Ron Miller, Orlando Murden); to my ears, this was her best turn of the evening.
Between numbers, Schuur gabbed with her audience, some of whom happily gabbed back. She mentioned that she was looking forward to receiving Social Security checks. She reminisced about her youthful enthusiasm for such TV shows as The Twilight Zone and Dark Shadows. She seemed to be enjoying herself. And at least some of her listeners ate it all up. Personally, I felt that a fraction of such small talk would have sufficed.
Schuur is someone whose musicianship I've appreciated ever since a friend gave me a cassette tape of hers in the 1980s. While I was glad finally to hear her in person, her show was not all that I had wished for. I hope to hear her again sometime, when she performs a more carefully curated set of songs, one with more balance and variety.
In addition to the talented Frahm, Schuur was backed by bassist Roger Hines and drummer Willie Jones III. All three musicians followed the singer's lead with professionalism and enthusiasm.
Birdland  –  November 14 – 18
Category: Reviews