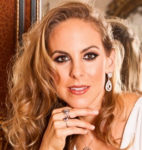 In so many ways, 1941 was a very good year in America. It was the year Joe DiMaggio scored hits in a record 56 straight games, leading the Yankees to yet another World Series win. The movies gave us such classics as Citizen Kane and Rebecca, and it cost only 25 cents to see them. M&M candies were introduced, as was the garbage disposal. But the biggest pop culture phenomenon that year had to be the astonishing wealth of music and lyrics that immediately entered the Great American Songbook and has endured to this day. Of course, the dark side of 1941 was World War II, which the United States entered at the end of the year. Our home front mood and priorities were immediately altered, and yet that musical Hit Parade persisted, albeit under the severest of war clouds.
In My Ship: Songs from 1941, her extraordinary new show at the Laurie Beechman Theatre, Dawn Derow beautifully covers both aspects of the twelve-month period. She jokes that the title song of the show, "My Ship" (Kurt Weill, Ira Gershwin), which she sings far better than Gertrude Lawrence ever did when she introduced it in Lady in the Dark, came about because "I'm from Cape Cod and we love all things nautical." But her ship could also stand for the journey from January to December of 1941, especially for the women of America, who suddenly became—temporarily or permanently—war widows and single mothers, as well as replacement workers, such as Rosie the Riveter. Derow co-created the show with Jeff Harnar, who directed it, and Barry Levitt, who did all the musical arrangements before his untimely death.
A black-and-white film clip montage nicely introduces the year and its musical personalities, underscored by an instrumental version of Billy Strayhorn's "Take the A-Train" played by the Barry Levitt Trio. That song and the 14 others to follow were all written and first performed in 1941. They are all still so well-known that Derow doesn't have to spend much time explaining them. Instead, she appears dressed for the occasion—from her multi-twist updo down to her perfectly straight seamed stockings (for good measure, she wears her grandmother's fingerless lace gloves)—and creates context for her selections, or explains their wider significance. Irving Berlin's "White Christmas," which Bing Crosby first sang in December, just days after Pearl Harbor, became more than simply the new holiday song: it has endured as an expression of longing for home. She then proceeds to sing it as such.
The rest of her remarkable and disparate song list ranges from the novelty number "When I See an Elephant Fly" (Oliver Wallace, Ned Washington, from Dumbo), through the haunting "Skylark" (Hoagy Carmichael, Johnny Mercer) and "Blues in the Night" (Harold Arlen, Johnny Mercer), to the evergreen love song "At Last" (Mack Gordon, Harry Warren). Highlights also include: "I Got It Bad (and That Ain't Good)" (Duke Ellington, Paul Francis Webster); "(There'll Be Bluebirds Over) The White Cliffs of Dover" (Walter Kent, Nat Burton), which is still Vera Lynn's signature song; and "Just Squeeze Me (But Don't Tease Me)" (Duke Ellington, Lee Gaines).
Derow also shines on a slower and sultrier-than-usual "Chattanooga Choo Choo" (Gordon, Warren), "Lover Man (Oh, Where Can You Be?) (Jimmy Davis, Roger Ramirez, James Sherman), and a pairing of "Let's Get Away From It All" (Matt Dennis, Tom Adair) and "How About You? (Burton Lane, Ralph Freed). The Andrews Sisters placed two of their songs high on the charts in 1941: "Boogie Woogie Bugle Boy" (Don Raye, Hughie Prince) and "Don't Sit Under the Apple Tree (With Anyone Else But Me)" (Sam Stept, Lew Brown, Chares Tobias); Derow does this medley with such Patty-like verve that we don't even miss Maxene and LaVerne. Throughout her luscious set, Derow gets equally excellent backing from Ian Herman (who replaced Levitt as musical director) on piano, Tom Hubbard on bass, and Daniel Glass on drums.
As you can see, there's not a clinker or mere filler in the program. This show has two more performances scheduled; don't miss it. (The next one, on November 4, will be a benefit for Barry Levitt's family.)
My Ship: Songs from 1941
Laurie Beechman Theatre  –  September 19, October 9, November 4, 29
Category: Reviews