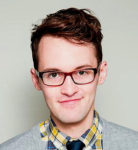 Sometimes, not often enough, the stars align and the gods of cabaret look down on a show and everything that can go right, miraculously, does and everything that can go wrong, even more miraculously, does not. That is what happened in Christoper Timson's show "#TBT: A Chubby Boy's Guide to Growing Up Normal" at Feinstein's/54 Below. Taking his cue from the "Throwback Thursday" concept of Twitter and other social media, Timson related his story of growing up from his overweight, in-the-closet childhood to his in-shape and proudly out adulthood in a charming, fast-paced, ingenious multi-media extravaganza that, for all its flash and fire, never lost sight of the intimate human story he had to tell.
Utilizing two large video screens on either side of the stage, the singer's past was never far from the present. Pictures and, especially, video clips from his early musical theatre performances illustrated his reminiscences and provided ample proof of his talent even at a young age. The technical wizardry was truly impressive and highly entertaining. His opening numbers, "There's Gotta Be Something Better Than This" (Cy Coleman, Dorothy Fields) and Edward Kleban's "Better," perfectly captured a young man's dreams of changing his life and moving on. His storytelling was immediately ingratiating. A funny food medley offered many reasons why he "chose" to be chubby early on; one of the songs, Jimmy Buffet's "Cheeseburgers in Paradise," (Jimmy Buffett) had two of his backup singers moving through the audience passing out cheeseburgers, and "Feed Me" (Alan Menken, Howard Ashman) featured a duet with his stomach that had to be seen to be believed.
"The Doctor Is In" (Clark Gesner, from You're a Good Man, Charlie Brown) gave us an actual duet between the younger and older Timson—courtesy of extensive footage from a starring role of his youth ("Community theatre was my life," he confessed)—that was a highlight of the night. It was both funny and touching, and in the end, left the audience cheering. In addition to being a most adept musical comedy performer, the singer proved to be equally at ease with more serious material, especially on a pair of Sondheim songs: a gorgeous "I Remember" and "What Can You Lose?" which has never been more effective. With a "cast of hundreds" (actually, seven singers with extensive Broadway credentials), Timson recreated the "Joyful, Joyful" scene from Sister Act 2, allowing him to literally get "in the habit" and fulfilling, in his words, "a gay boy's dream."
The trials and tribulations (and flirtations) of weight loss and gym visits were hilariously chronicled in a "workout medley" that, in addition to featuring his supporting cast as various denizens of various gyms, even brought an unsuspecting audience member on stage to participate in the choreographed calisthenics. Dan Goggin's "I Just Wanna Be a Star" was a hilarious anthem to the singer's theatrical ambition, and when he sang "Make Someone Happy" (Jule Styne, Comden & Green) to his boyfriend in the audience, he would certainly have won the hearts of the packed room had he not already done so long before.
The show was smartly directed by Jesse Sharp, and music director Eric Fotre Leach provided outstanding piano accompaniment, with an assist from Ray Belli on drums.
I never thought I would be quoting Mary Poppins in a cabaret review, but I have to say that "#TBT: A Chubby Boy's Guide to Growing Up Normal" is practically perfect in every way. Christopher Timson may very well have grown up "normal" (whatever that is), but he most definitely grew up to be a star.
"#TBT: A Chubby Boy's Guide to Growing Up Normal"
Feinstein's/54 Below  –  April 14
Category: Reviews