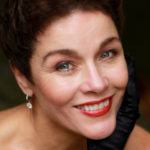 Christine Andreas's show Love Is Good proved, once again, that she is a consummate cabaret performer. There could not have been a better closing engagement for Mark Nadler's wonderful (and wonderfully successful) summer cabaret series at the Beach Cafe. In the intimate space that feels as much like a living room as a music room, Andreas responded to the immediacy of the surroundings in thrilling ways. It was a delightful surprise that she chose to revisit a number of her Broadway triumphs. Her opening, "Storybook" (Frank Wildhorn, Nan Knighton, from The Scarlet Pimpernel), was ecstatically romantic. With particular emphasis on the verse to Bart Howard's "Fly Me to the Moon," she eschewed the normal jazz inflections and reclaimed the song's pop roots, letting the beautifully poetic lyrics guide her vocals.
She spoke of her love of verses and their effect on an audience as they set, or re-set, a familiar piece of material, and used Rodgers and Hart's "My Heart Stood Still" as an example. Andreas was made for Hart; her personal, deeply felt connection to lyrics comes to full bloom with his words. She then recreated one of her crowning moments on Broadway with "I Could Have Danced All Night" (Lerner & Loewe, from My Fair Lady) following a funny anecdote about how she came to perform it at the White House. She proved equally moving on Clint Black and Skip Ewing's country hit "Something That We Do"—in spite of her protestation that she "doesn't do twang."
She paid touching tribute to her friend Hal David with a medley of "Alfie" and "What the World Needs Now," both with music by Burt Bacharach. "Alfie," in particular, was acted to perfection. Her exquisite phrasing was also highlighted on Mary Chapin Carpenter's "What If We Went to Italy." It was appropriate to include a bit of Cole Porter since the entire series spotlighted him; she chose "I Love Paris," which was the perfect lead-in to "La Vie en rose" (Louiguy, Marguerite Monnot, Édith Piaf) sung with such hair-raising abandon that it left the audience exhilarated and demanding an encore. She obliged with a soaring "On a Clear Day You Can See Forever" (Burton Lane, Alan Jay Lerner).
Music director Martin Silvestri (the singer's husband) excelled at the piano and as "co-host" for the evening, contributing stories and asides of his own and providing a couple of songs as well—with particular mention of the title song, "Love Is Good" which he wrote for her. The captivating vocals were at once plaintive and sensual. The only misstep of the night was an obvious and schmaltzy duet of Lerner and Loewe's "I Remember It Well." But that was easily forgiven in light of the tremendous success of the rest of the evening.
Christine Andreas is a marvel, her voice more compelling and more thrilling than ever. She is the type of singer that makes you want to say, "Stay all night and sing them all." But the riches she shared in Love Is Good will certainly tide us over until her wished-for return to New York cabaret.
Love Is Good
Beach Cafe  –  September 28, 29,30
Category: Reviews