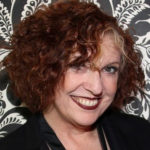 Singer Cheryl Bentyne, of Manhattan Transfer fame, publicized reARRANGEMENTS OF SHADOWS, her recent show at Birdland, as a celebration of her new release of Sondheim songs, but it turned out to be more a preview of the CD because fully half of the program consisted of non-Sondheim material. Although this might have been disappointing to some Sondheim diehards, Bentyne filled the rest of the show with songs by Sondheim's mentor, Oscar Hammerstein II. Besides, I could listen to her swing the phone book and be satisfied.
Backed by a sizzling quartet (Yaron Gershovsky on piano, Matt Aronoff on bass, and Clint de Ganon on drums, with special guest Aaron Weinstein on violin) the singer certainly rearranged the material and brought new colors, rhythms, and meanings to familiar Sondheim "hits." Each song reinforced her confession that she was a "closet Broadway baby." Something about "The Ladies Who Lunch" reminded Bentyne of "'Killer Joe' in an expensive gown," so there was an unexpected, pulsing re-imagining of the classic from Company minus the self-laceration and, instead, offering a fiery snapshot of a hat-buying social class observed from the outside. "I Remember Sky" (Evening Primrose) was an exuberant statement on the joys of remembering rather than the customary sad rumination on forgetting.
She rarely slowed the pace, but when she did the results were beautiful. This was especially true of a medley of "I Wish I Could Forget You" (Passion) and "Not While I'm Around" (Sweeney Todd) that was the heart-stopping emotional highpoint of the evening. Her antic spirit resurfaced immediately after that with a delightful "I'm Gonna Wash That Man Right Outa My Hair" (Rodgers & Hammerstein). She put a timely spin on "Everybody Says Don't" (Anyone Can Whistle) that left little doubt that the king in the lyric was, in her mind, an oddly coiffed resident of 1600 Pennsylvania Avenue. Her Norma Desmond take on "Losing My Mind" (Follies) was aided immeasurably by Weinstein's eerie violin solo.
I might have preferred a bit less movement on stage. Whenever she was not singing, she was moving rhythmically if not actually dancing. This did not carry over into the ballads, but it distracted from the stories she was telling in the uptempo songs. She also resurrected an irritating affectation from the past: waving the microphone back and forth in front of her mouth to get a sonic effect. She doesn't need such artificiality.
There may have been some Sondheim neophytes in the audience who got lost here and there with the constant reinvention, but for fans of the master, Cheryl Bentyne offered a kaleidoscope of jazzy interpretations. The reinvention is all her own, and I'm glad she chose to share it with us.
reARRANGEMENTS OF SHADOWS
Birdland – March 5
Category: Reviews