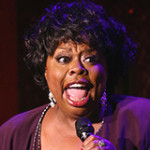 If any cabaret singer these days can get away with an amorphously themed show with no discernable through-line, surely it's Carol Woods. Oh, she had a sort-of title for her recent set at Feinstein's/54 Below: "Lighting Up a Stage with the Barry Levitt Trio." And that was a promise splendidly fulfilled by musical director Levitt on piano, Jon Burr on bass, and Dave Gibson on drums. Woods even had a director, Leslie Dockery. But, make no mistake about it: as Woods smilingly made very clear, more than once, when a rabid fan dared to request she sing a particular song, "This is my damn show, and I'll sing what I like." She amended this by describing the show as an "eclectic selection to satisfy your every mood swing."
What she liked to sing were mostly standards, many of them overdone over the years. Coming from lesser lungpower, and lacking Woods's compelling lyric interpretations and her self-mocking sense of her own adorableness ("I'm cute," she teased, also more than once), singers who rely on old favorites and not much else could be shooed offstage with a song list like this, dating back to 1928's "I Can't Give You Anything but Love " (Jimmy McHugh, Dorothy Fields) and "My Baby Just Cares for Me" (Walter Donaldson, Gus Kahn), from 1930. (Woods did update the lyrics to that one: "Gayle King is not his style; or even Oprah Winfrey's smile.") With these and with more recent compositions, she managed to erase most memories of the songs' originators and a multitude of covering artists simply by being her vocally imposing self.
While her opener, "Orange Colored Sky" (Milton De Lugg, Willie Stein), may not have eclipsed Nat King Cole's version, or even Betty Hutton's cover, it provided a breezy promise of things to come. In tribute to her beloved mentor, Margaret Whiting, Woods delivered a powerful "Come Rain or Come Shine" (Harold Arlen. Johnny Mercer). She dipped into the 1960s and '70s with effective versions of "(You Make Me Feel Like) A Natural Woman" (Gerry Goffin, Carole King, Jerry Wexler) and Jim Weatherly's "Neither One of Us (Wants to Be the First to Say Goodbye)." If Woods has her own signature song, it's "When You're Good to Mama" (Kander & Ebb), which she sang for 18 years, on and off, as Mama Morton in Chicago on Broadway and on tour, and with which she killed again here.
Woods had her daughter and granddaughter ("she's the one with green hair") singing sparkling backup on two songs, including "I'm a Woman" (Leiber & Stoller). Her ribald side came out deliciously with Andy Razaf and Alexander Hill's "If I Can't Sell It, I'll Keep Sittin' on It." Speaking of sitting, she sang much of her set perched on a stool. "I'm getting too old for this," she said, but that wasn't true vocally, only sedentarily. She was at her most wistful on a lesser-known modern classic, "The People That You Never Get to Love" (Rupert Holmes). And her one true outlier in this set was a country song, "Even God Must Get the Blues" (Dene Anton, John Scott Sherrill), which was as affecting as it was timely with its introductory line, "The devil's been so busy lately…" Woods made the number even more poignant by interspersing samples of Sondheim's "Children Will Listen." Even introducing her serious closer, "God Bless the Child," Woods couldn't resist a little joke: "Billie Holiday wrote this song for me; she just didn't know it at the time." (Presumably, Holiday's collaborator, Arthur Herzog, Jr., didn't know it either.)
"Lighting Up a Stage with the Barry Levitt Trio"
Feinstein's 54 Below – March 30
Category: Reviews