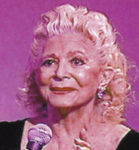 "I Gotta Right to Sing the Blues," Carol Shedlin declares emphatically in the opening number of her current Don't Tell Mama show, Serenade in Blue (directed by Linda Amiel Burns). While there are, of course, no legal restrictions on blues singing, there's long been disagreement about who has and who lacks the credentials to do it. Here, the Harold Arlen/Ted Koehler number seems to be an entry to this music—a way to say, "I'm here. I'm singing this. Get used to it." I find it fascinating that the first recording of the song was by Ethel Merman, whose vocals have probably never been confused with those of Bessie Smith or Blind Lemon Jefferson. As for Shedlin, she plants her feet on the stage to deliver the number—matter-of-factly, but with authority. There's a streak of comic energy in her performance: She puts hands on hips and drawls the words in parts of the song, suggesting a slinky Mae West.
She takes a comic tack at other points in the show as well. On Noble Sissle and Eubie Blake's "Low Down Blues," she pulls out a handkerchief and sniffles her way through the number, concluding it by exclaiming, "Oh, my—that felt good!" At another point she notes with comedic understatement, "When you hear the blues, there's always a lot of kvetching going on."
Elsewhere in the show, however, she is dead serious. When she sings "Mood Indigo" (Duke Ellington, Irving Mills, Barney Bigard), there's a deep, raw hurt in her voice that to my mind is the mark of authentic blues singing. It's one of the evening's standout performances.
Part of her strategy in this show is to expand the notion of what comprises the blues. Rodgers and Hart's "Nobody's Heart" and "A Ship Without a Sail" could be presented in an arrangement with a bluesy sound, but Shedlin doesn't go that route. Rather, she sings these songs in a conventional way but concentrates on the downhearted nature of Hart's lyrics. Similarly, she gives us Noël Coward's wistful and delicate "If Love Were All"—which is as about as far away from most people's understanding of the blues as one can get. Nevertheless, the song here is filled with a spirit of melancholy introspection that fits with the overall program.
Most of the traditional blues songs in the show are from the 1920s, '30s, and '40s, and one—the entertaining "Blues My Naughty Sweetie Gives to Me" (Arthur N. Swanstrom, Charles McCarron, Carey Morgan)—goes all the way back to 1919. There is much variation in mood and style throughout the evening. Shedlin tackles some red-hot-mama songs, which brim with sexual innuendo. These "blue" blues numbers include the suggestive "The Right Key But the Wrong Keyhole" (Clarence Williams, Eddie Green) and the more brazenly smutty "Kitchen Man" (Andy Razaf, Edna Alexander, Maceo Pinkard). In another segment she gives us a taste of "cheer-up blues" from the Big Band era, when the blues sometimes took a quickened pace, morphing into a relatively upbeat boogie-woogie sound. Included in this grouping is the tongue-twisting "Mad About Him, Sad Without Him, How Can I Be Glad Without Him Blues" (Dick Charles, Larry Markes).
You wouldn't call Shedlin's vocals pristine. On the night I saw the show, there were some rough passages on certain numbers, and her pitch faltered at times. But having a flawless voice has never been a prerequisite for blues singing—or for cabaret singing, for that matter. Having experienced a big dollop of life's ups and downs (emphasis on the downs) and then recalling them with passion and touches of wry humor, on the other hand, are big pluses for blues singing and cabaret performance alike. And on that account, Shedlin passes with flying colors.
Pianist and music director Jon Delfin provides the singer with good support; he seems closely attuned to what she needs from moment to moment. Joining him is bassist Boots Maleson—a welcome presence. On "Between the Devil and the Deep Blue Sea" (Arlen and Koehler, once again) he provides the sole accompaniment, and it's a lively, lovely turn.
Serenade in Blue
Don't Tell Mama  –  May 1, 8, 23, June 1
Category: Reviews