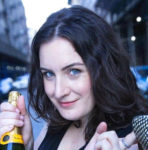 Party of One, which is playing at Don't Tell Mama, is the entertaining and smoothly structured cabaret debut offering of singer Caitlin Fahey. Coming from the world of opera, Fahey has a strong, expressive voice, but wisely chooses to keep it in check unless the song calls for her to indulge its power. She seems totally at ease on stage, whether captivating the audience with a haunting version of Janis Ian and Kye Fleming's "She Must Be Beautiful," or singing the story beneath the bubblegum pop of ABBA's "Nina, Pretty Ballerina" (Benny Andersson, Björn Ulvaeus), or joyously advising the audience to "Make Your Own Party" (Zina Goldrich, Marcy Heisler). The rarely done "Night Song" (Charles Strouse, Lee Adams, from Golden Boy) shows off her warm rich sound, as does an especially touching "How Are Things in Glocca Morra?" (Burton Lane, E.Y.Harburg).
Music director Rick Jensen, who for years has been filling New York cabarets with exciting, personal arrangements that transform familiar material into something special, seems this year to have reached a particularly high and satisfying level in show after show. For me, the highlight of this show s a stunning reworking of Tony Hatch's "Downtown" that is surprisingly moving and displays Fahey's most assured and impressive vocals of the night. Director Lina Koutrakos's precise and uncluttered direction adds to the show's success.
There are a few beginner's glitches that can easily be improved upon. Fahey's intonation waivers a bit on sustained notes here and there. She has a habit of adding awkward pauses in inappropriate places in an effort, it seemed, to appear thoughtful in her phrasing. Rather than sounding natural and conversational, it is quite the opposite, and it takes us out of the story of the song. For example, in an otherwise more-than-presentable "It Might As Well Be Spring" (Rodgers & Hammerstein), she sings, "as a puppet… on a string" and "when it… isn't even spring." This happens in other songs as well; it is especially distracting in her game, but not entirely successful, attempt to swing "Straighten Up and Fly Right" (Nat King Cole, Irving Mills). She also tends to sing in broad emotional strokes rather than get more specific and personal with the lyrics. This proves particularly detrimental in Ani DiFranco's "32 Flavors." This song should be a perfect match for her, but she lets angry bitterness override the smaller moments of wit and self-deprecation that the song offers.
Her patter is winning, centering for the most part on her life in New York City but managing to avoid most of the "big city" clichés of other shows. "I'm Old Fashioned" (Jerome Kern, Johnny Mercer) moves into an amusing story about how '90s rom-coms have warped her view of romance, which, in turn, leads to a very funny enactment of an Internet-generated blind date set to "How About You?" (Burton Lane, Ralph Freed).
Fahey shows an easy, unforced affinity for more contemporary material; she should definitely delve more deeply into this in the future. Based on the promise she displays in Party of One, I would expect that future to be a bright one.
Party of One
Don't Tell Mama – June 8, 18, October 21, December 1
Category: Reviews