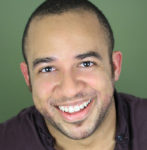 Byron St. Cyr stepped onstage for his recent Don't Tell Mama show (directed by Jim Brigman) looking spiffy in jacket and tie. Well, sort of. The tie he wore was actually an untied bowtie, draped scarf-like from the back of his neck. Though it was an unusual choice, there seemed to be method in it: on one hand, St. Cyr seemed to be dressing to the nines for a big celebration; on the other, he was celebrating relaxed, let-your-hair-down family time. The title of his show, 4600 Mithra: My New Orleans, referred to the address in the Pontchartrain Park area of the city where his grandparents lived. As a child, he found a special sort of second home there. He absorbed the Big Easy culture, grew to love the local food, and reveled in the varied musical sounds he heard, both within and without his grandparents' residence. His wistfulness about a place lost to time seemed to be offset in the show by a desire to share with his listeners the richness of those early years. His assured, warm voice—a wide-ranging baritone—delivered jazz-inflected versions of standards, show tunes, rhythm-and-blues numbers, and even operatic arias. And his openhearted joy, subtle humor, and easygoing charm helped make the show succeed.
He had stellar assistance from a team of musicians led by pianist and musical director Drew Wutke, along with bassist Joe Wallace and drummer Kenny Hildebrandt. Two arrangements early in the show captured especially well the New Orleans ambience. The accompaniment for Arlen and Mercer's "That Old Black Magic" had the polyphonic quality of old-time street jazz, a sound you might associate with a New Orleans funeral procession. And the slow, sultry arrangement for "Mood Indigo" (Duke Ellington, Barney Bigard, Irving Mills) might have served as mood music in the parlor of a vintage N.O. bordello. A ghostly, moaning, vowel-heavy scat riff that St. Cyr emitted in the latter number was a novel but oddly appealing effect. (It showed up again, later, in his performance of Eddie DeLange and Louis Alter's "Do You Know What It Means to Miss New Orleans?")
St. Cyr's training and background are in musical theatre, although he explained that as a child he was ignorant about the stage and would recognize show tunes only as jazz standards. Early on, he performed a pair of swinging variations on Broadway favorites. Sondheim's "The Miller's Son" from A Little Night Music was a highly unpredictable choice, as (a) it's not something most singers would think to swing, and (b) it's not a song you're apt to hear a man perform. He succeeded with it in a lovely arrangement that gave each of the song's imagined husbands (the miller's son, the business man, and the Prince of Wales) a distinct sound and attitude. (With the first two candidates, St. Cyr went dancing, but with the prince he went "dahncing.") He followed this up with Lerner and Loewe's "I Could Have Danced All Night," from My Fair Lady, a show he appeared in on a national tour several years ago. In both of these songs, he practiced what might be called gender-blind singing—taking a woman's perspective without camping it up or altering his voice in any way. Later in the evening he again sang titles most often associated with women's voices, in a mash-up of the "Habanera" from Carmen (Georges Bizet, Henri Meilhac, Ludovic Halévy) and "Summertime" (George Gershwin, DuBose Heyward, from Porgy and Bess). The habanera rhythm was sustained throughout the medley, working tidily to unite the two songs.
Toward the end of the set, St. Cyr performed a funky, spirited take on "Working in the Coal Mine" (Allen Toussaint), including a portion presented a cappella (except for the rhythmic clapping of the audience). On this number he modulated his volume level effectively—something I wish he had attended to more consistently throughout his show. He tended to sing overloud in the early portions of numbers, so that when he needed to intensify the emotion later, it sometimes came off as hollering. The lion's share of his songs aimed to be showstoppers. But why? Singers should avoid "stopping" a show too many times. Sometimes, shows need to stay moving—in both senses of the word. St. Cyr's excessive volume didn't erase the charm or sentiment of this very entertaining show, but it did put a damper on it.
4600 Mithra: My New Orleans
Don't Tell Mama  –  July 8
Category: Reviews