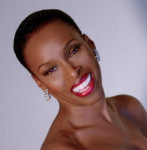 Other songbirds may warble sweeter notes than Brenda Braxton. Other raconteurs may spout wittier quips. But where rapport with an audience is concerned, Braxton is hard to beat.
Braxton is, first and foremost, a good host—she knows how to share a moment with her listeners and what to do to make everybody feel at home. She's attuned to everything that's going on in a room. When someone laughs or whoops, she acknowledges it. Any barrier between her and her audience is scarcely felt. She seems to remain in improvisatory mode throughout her set.
At the May 3 performance of her show "Act 2… Now What?!" at The Metropolitan Room, she came to the stage wearing a crisp white shirt. Her hair was slicked back. Large earrings dangled beside her neck like miniature chandeliers. She percolated with gregarious fun.
The sentiments of her first song, "Only in New York" (Jeanine Tesori, Dick Scanlan), established the sense of a shared habitat with her audience. This jazz-inflected number (from the stage version of Thoroughly Modern Millie) built to a raucous finish and a lively scat-sung coda. Her second number, "Not in the Mood for the Blues Tonight "(Cleavant Derricks, Clinton Derricks Carroll) was, perhaps, too much in the same vein as her opener—it shared a similar rhythm and attitude. A ballad might have been a better choice at that point.
Speaking about her preparation for the show, Braxton made fun of the self-importance of certain autobiographical cabaret acts. Then, without missing a beat, she fessed up to having succumbed to the familiar genre herself. Her show was indeed a kind of memoir. Throughout the evening she showed herself to be a nimble storyteller. She recalled camping out with her boyfriend under a piano in an apartment belonging to a friend with a scary pet snake. And she talked with relish about the indignities she endured in her experiments with online dating.
Braxton also talked about her life as a Broadway performer. Several of her musical selections had connections to shows in which she's appeared. Two such titles were among the evening's musical highlights. The first was a smooth, sexy, and sassy version of Guys and Dolls's "If I Were a Bell" (Frank Loesser). The other was a boisterous rendition of "Don Juan" (Leiber & Stoller) from Smokey Joe's Cafe. During the latter number she clowned with a bright-red feather boa. Throughout the set, Braxton made the most of each stretched vowel, each staccato consonant. She allowed her voice to flare up with excitement or to hunker down into breathy quiet, depending on the needs of a song.
A trio of musicians—pianist and musical director Tracy Stark, bassist Tom Pietrycha, and drummer David Silliman—lent the singer buoyant support. And Stark held her own as Braxton's duet partner on Leiber and Stoller's "I'm a Woman." The closer, "Don't Rain on My Parade" (Jule Styne, Bob Merrill), was performed in a slightly slowed-down arrangement that kept it from working as a full-tilt showstopper. Fortunately, Braxton was able to rebound with her encore, the Donna Summer title "My Life" (Lee Miller, David Nail), which seemed to underscore her fully committed, open-hearted approach to being an entertainer. "Standing right here, out on the stage, is where I belong," Braxton sang above the disco thump of this finale. It was impossible to dispute the claim.
One quibble: The "Act 2" theme of the show was not as thoroughly developed as it might have been. Certainly Braxton talked about growing older and wiser. (And there was a running gag about 50th birthday celebrations that hit its mark every time.) But she might have better established this motif in the earlier half of her set.
"Act 2… Now What?!"
Metropolitan Room  –  April 26, May 3
Category: Reviews