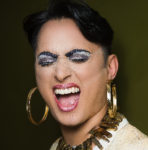 The provocative title of Billy Lykken's recent show at the Metropolitan Room, "Sacred Monster," refers to the posters of various music divas, like Bette Midler and Whitney Houston, that used to hang on his walls when he was growing up as, in his words, "a Filipino Viking." It's an intriguing premise for a show: exploring the influence these superstars had in shaping that young gay boy into the androgynous "monster" that inhabits the stage before us. Unfortunately, after establishing the meaning of the title, Lykken never really returned to that concept, but veered off into a nightclub performance of a glitzy, jaded Vegas-y star—so brittle and cold that we never get a glimpse of whatever warmth and vulnerability might be hiding below the surface. His delivery was the familiar, acid-tongued, bitter bitchery that we have come to expect from contemporary drag performers—a mix of traditional camp and modern abrasiveness.
The initial visual assault—to use a word that characterizes his brassy and bold entrance through the house—was remarkable: stunning, drag-influenced make-up, red, floor length coat, and, underneath, a white sequined dinner jacket, shirtless—followed later in the show by on-stage changes to a delicately designed kimono, and then an even flashier red sequined jacket. His vocals were often exciting and strong, but not as often on pitch and too often concerned with volume rather than nuance. Attitude and energy can mask a lot of sins, but not all of them. The vocals were so focused on intensity that they left no room to work around some of the vocal problem areas, when in many instances a quick fix in phrasing or arrangement or key might have helped immeasurably. When the intensity did work, it offered up an electrifying performance, but in the relatively quieter moments the delivery remained so presentational that it remained emotionally empty.
Kander & Ebb's "Where You Are," from Kiss of the Spiderwoman, proved an early success and one of the most resonant, reflecting the performer's struggles to find and be himself on stage. "Swinging on a Star" (Johnny Burke, Jimmy Van Heusen) was cleverly reworked into "Living Like a Star." The jazz standard "Poor Butterfly" (Raymond Hubbell, John Golden) incorporated some of Eartha Kitt's Japanese version and served as the introduction to a "mini-musical" about a Japanese maiden's brief, ill-fated romance with an American sailor. This included a dance section with the maiden and the sailor, impressively choreographed (especially considering the size of the stage)—at least until by the end it became more beefcake than heartache. By all rights, John Meyer's wonderful "I'd Like to Hate Myself in the Morning" should have been a showstopper, but it fell flat with confused phrasing and lyrical imprecision. Rodgers and Hart's "You Are Too Beautiful" brought a welcome bit of elegance and sophistication and offered Lykken his warmest moment on stage.
There were exciting, big ideas on display here, and director Rick Skye and the singer fashioned a number of unexpected highlights throughout the evening. But while they doubtless spent energy and time on those big set pieces, they seem to have neglected the "glue" that connected those moments; the transitions and smaller moments seemed rather slipshod and under-rehearsed. There was a failed bit of business with feather boas that proved embarrassing and a number done with the singer prone on the floor that might have been intended as parody, but turned out to be just silly.
More care and effort could have gone into the choice of repertoire as well. I can't recall a show in recent memory with so many mediocre or just plain bad songs. Granted, some of them were "hits" in their original form by the likes of Madonna, Amy Winehouse, and Alicia Keyes, but stripped down to cabaret size and performed with just a trio (even a trio as accomplished as Yasuhiko Fukuoka on piano, Marco Panascia on bass, and Simon Fishburn on drums) they just didn't cut it—especially side by side with the songs I mentioned earlier.
With this show, it is clear that Billy Lykken is well on his way to perfecting his glittering, gender-bending surface. His next task is to explore what lies beneath it.
"Sacred Monster"
Metropolitan Room  –  February 5
Category: Reviews