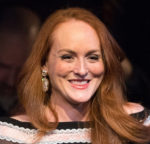 Antonia Bennett arrives on the stage of the venerable Café Carlyle having grown up around giants of the Great American Songbook, including Rosemary Clooney and Frank Sinatra, and having been the opening act for her legendary father, Tony, for over ten years. She has an obvious affection for the standards with which she has filled her set, and her work with her father in concert halls has given her a lot of experience in that kind of show; however, the intimacy of cabaret requires a different skill set, which she has not yet mastered.
This feels at times like a show by a talented beginner with work still to be done. Certainly there are moments that work well. Her quiet rendition of "Embraceable You" (George & Ira Gershwin), especially on the verse, was thoughtful and endearing. She also picks the tempo up nicely on the Gershwins' "Nice Work If You Can Get It," although I was a bit thrown by her introduction of it as being about prostitutes. Cole Porter's "Ev'ry Time We Say Goodbye" works reasonably well until it is undone by an irritating carelessness with lyrics—a fault not confined to that one number. Too often, though, the songs are delivered in a cursory manner, with a sometimes pleasing surface, but little life underneath. I said of someone recently, and it's even more apt here, that these are more like transcriptions than interpretations.
Her trio of Spike Wilner on piano, Paul Newinsky on bass, and Anthony Pinciotti on drums, whether out of necessity or choice, provides workmanlike accompaniment. I wish they had played with a bit more personality. Whether from nerves or from failure to get inside the lyric, Bennett smiles way too much, and at inopportune moments in songs that don't warrant it. Her vocal delivery could use some attention as well; working with a coach might help her to develop at least a bit of a vibrato which would transform some of her frequently held notes into a more satisfying sound. A director would help her shape the show, and the songs, in a more sophisticated way and improve her microphone technique.
For her encore, she ventures away from the standard repertoire and gives us her most successful performance of the evening with "Always On My Mind" (Johnny Christopher, Mark James, Wayne Carson). Freed from whatever intimidation factor the warhorses she has sung previously might impose on her, Bennett delivers this more contemporary material in an easy, conversational style and concentrates on the storytelling. It took a long time to get there, but here was a singer I would like to see again.
Café Carlyle – May 23 – June 3
Category: Reviews