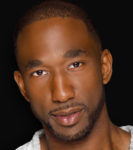 Anthony Wayne is a singular talent. He has a strong, yet insinuating, voice, and his supple movements reveal his dancer past to great effect, particularly in the limited space at the Metropolitan Room where he chose to celebrate his birthday on stage in The Evolution of Anthony Wayne. Most recently lauded for his work in Mighty Real, the musical bio of the singularly named and mightily talented Sylvester, Wayne has a resume filled with many iconic musicals, both on Broadway and out of town, and he visits a large number of them in the course of this show.
An unexpected highlight was an electrifying recreation of the "Gimme the Ball" section of A Chorus Line (Marvin Hamlisch, Ed Kleban). He played Richie in the national tour, and his affection for the part and attachment to the show were obvious. His coiled, minimal choreography served the song really well. On the other hand, Sondheim's "Being Alive," from Company, which should have been a natural for his musical and acting chops, instead became a disappointingly "big" number focused on bombast rather than intimacy and personality. In addition to Broadway, there were some pop songs; while most were throwaways lacking interest or quality, a personal reworking of "Man in the Mirror" (Glen Ballard, Siedah Garrett) that started thoughtful and small and grew in intensity to an exciting climax stood out.
Too often, songs were presented in short, cursory renditions to make room for the patter. Wayne talked, and talked…, and talked. The show began to resemble one of those old late-night infomercials in which a pop or classical compilation would be promoted for a half-hour, interrupted occasionally with snippets of the material from the recording. Here the singer seemed to be using most of the songs as brief illustrations or expansions of his patter, rather than using the patter to introduce or illuminate the songs.
The story he has to tell, while no doubt personal, has become a cliché in New York cabaret. The tale of the rise of a performer from high school and college triumphs, to small productions, to Broadway, with missteps and failures along the way, changes very little from show to show. Different hometowns, schools and shows are inserted each time, but the journey, the structure, and the overarching themes remain pretty much the same. The "revelations" in the patter tend to be clichéd as well, or else so personal that they are appreciated only by family and friends in the audience. If Wayne loves Priscilla, Queen of the Desert, let him wow us with a number from it. He needn't tell us about his connection to the show; let him show us in his performance.
This is particularly unfortunate in the case of Anthony Wayne because I really liked him and wanted to experience his obvious talents in full numbers unfettered by patter and set-ups. I wanted him to be an entertainer and not a lecturer. Music director Darius Smith led an accomplished, but larger than necessary, ensemble; when given a chance to shine, they did.
I hope that in his next foray into cabaret, Wayne lets the songs tell his story and gives us more truth and fewer facts.
The Evolution of Anthony Wayne
Metropolitan Room  –  June 30
Category: Reviews