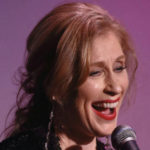 She was already two-thirds of the way into One Night Only, her recent show at Feinstein's/54 Below, before Ann Kittredge acknowledged that if she "had to pick one song" to explain what her evening was about, it would be this one: "Before the Parade Passes By" (Jerry Herman). Kittredge sang the number in a slower, more pensive way than we've been used to hearing it ever since its introduction in Hello, Dolly!, in 1964. This more thoughtful delivery effectively underscored Kittredge's desire to return to live performing after taking time off to raise her kids and a whole other career as an education advocate for New York City public schools. But Kittredge's version might have been even more effective had it come much earlier in her set in order to help introduce and solidify her theme, and had been followed by some similarly low-key renditions amongst the show-stoppers.
Instead, at the outset Kittredge projected insecurity about her re-aspiration and gave the impression of being intimidated by this particular venue. She needn't have worried about the warmly anticipating full audience, which was bolstered by a large contingent of friends and family; nonetheless, she greeted them and the rest of us with "I'm glad you're all here—and drinking." Her voice was in fine shape, and sounded suitable for a host of different styles, but her approach to much of her material found her trying too hard, and was often too forceful, too loud, and leading to a big finish. Even her renderings of the ballads "If Ever I Would Leave You" (Lerner & Loewe) and "My Foolish Heart" (Victor Young, Ned Washington) seemed bigger than they needed to be. In contrast, when she deliberately went for a softer sound, as in her whispery "Time in a Bottle" (Jim Croce), it was comparatively inaudible. That song itself was a redundant follow-up to a lovely and controlled "Stop Time" (Richard Maltby, David Shire, from Big), which all by itself conveyed a mother's regret that her children couldn't stay young.
Given her rich earlier career in musical theatre, it was logical that she chose a good many Broadway songs for her show (directed by Richard Jay-Alexander). With the help of musical director and pianist Wendy Cavett, she neatly mixed some relatively obscure numbers, such as "Come Down From the Tree"(Stephen Flaherty, Lynn Ahrens, cut from Once on This Island) and "Uptown, Downtown" (Stephen Sondheim, cut from Follies but resurrected in Marry Me a Little), with the usual suspects, such as Kander and Ebb's "And the World Goes 'Round." But Kittredge's best contribution to rescuing the unknown was an atypical, bouncy, and wry Billie Holiday number, "Please Don't Do It in Here," which was composed by Buster Harding, with lyrics by Holiday herself. Throughout the set, Kittredge was ably supported by Cavett, Mary Ann McSweeney on bass, and Ray Marchica on drums
Kittredge performed "an exorcism" on herself with her "Best 16" medley, a clever stringing together of audition and callback songs from her earlier heyday. "Every time I sang one of those songs, I got the job," she noted, "but I'll never sing that medley again." Her encore was Carole King's "You've Got a Friend," sung as a beautifully harmonized duet with Wendy Cavett, who stayed and played and sang at her piano. Kittredge sat on a stool at her side—that is until she stood up to the microphone for, you guessed it, a big finish.
We seem to have had a recent spate of women performers who have returned to the cabaret stage after longish periods of marriage and motherhood. Mostly they have been very welcome and successful. There's no reason Kittredge can't join their number. But this one-off show has to be her last audition. She's got the job. Now it's time for her to settle down and to feel welcomed home.
One Night Only
Feinstein's/54 Below – October 18
Category: Reviews