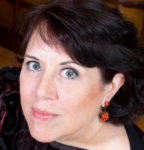 It would take a daring performer with solid and wide-ranging singing chops and a sense of humor to pull off an effective and memorable tribute to six major musical artists from the last century in a one-hour show. Fortunately for us in the audience, Andrea Axelrod was more than up to this task in Centenary, her recent show at Don't Tell Mama. Memorably and with charm, she celebrated this sextet of figures with disparate personalities, functions, and styles, but all born in 1918: Rita Hayworth, Alan Jay Lerner, Pearl Bailey, Robert Preston, Leonard Bernstein, and Jerome Robbins.
Axelrod's premise must have been even more challenging in its realization because, with two notable exceptions, these honorees did not work together in the business. Former Harvard classmates Bernstein and Lerner wrote two Broadway musicals together, neither of which was represented here, and Bernstein composed the music for two shows Robbins choreographed or choreographed and directed, On the Town (lyrics by Comden & Green) and West Side Story (lyrics by Stephen Sondheim). Axelrod honored the former musical with an especially haunting "Lonely Town," and the Bernstein/Robbins collaboration provided a rich finale to this show.
The other four subjects of this combined tribute were accorded mini-sets of their own, of about three songs each. But not before Axelrod offered a delicious opening number embracing all six of her "participants" to come. Like an especially cheery schoolmarm lulling her students into shared jollity before the upcoming history lesson, she launched into "Ja-Da" (Bob Carleton). Her main rationale for this was that the song, which is perhaps more familiar for its chorus, "Ja-Da, Ja-Da, Ja-Da, Ja-Da, Jing, Jing, Jing," was written and became a huge hit in 1918, and, thus, was also having its centenary. The audience singalong Axelrod induced put us all in a celebratory mood for the hundredth birthday party that was to follow.
Rita Hayworth could and did sing some in her movies, but was largely dubbed by others. Still, "Put the Blame on Mame" (Allan Roberts, Doris Fisher, from Gilda) remains indelibly hers. As do, to a slightly lesser extent, two Jerome Kern songs: "I'm Old-Fashioned" (lyrics by Johnny Mercer), and "Long Ago (and Far Away)" (Ira Gershwin), which Axelrod combined in an exquisite medley, plumbing new off-screen depths and making them indelibly her own. On the other hand, she offered her only imitation of one of her subjects, neatly doing "Pearlie Mae" inflections on Bailey's first hit, "Tired' (Roberts, Fisher), and on her biggest hit, "Bill Bailey, Won't You Please Come Home?" (Hughie Cannon).
Music director, pianist, and occasional co-singer, John M. Cook, and bassist Tom Hubbard, both exemplary throughout the show, were especially noteworthy in the Lerner (and Burton Lane) portion of the program. Cook's lovely arrangement on Axelrod's slower and more thoughtful than usual "What Did I Have That I Don't Have?" included interpolations of Ravel's La Valse. Hubbard was at his most penetrating and graceful on "Too Late Now."
When it came to Preston, Axelrod appeared determined to avoid the more obvious selections (from The Music Man and I Do, I Do). She gave us a sprightly "When Movies Were Movies" (Jerry Herman, from Mack and Mabel), and her worthy encore for her whole show was Meredith Willson's "Goodnight My Someone" neatly interlaced with Cook's samples of Bernstein's "Lucky to Be Me" and Herman's "I Won't Send Roses" (at last!). Axelrod's only real misfire may have been reprising a lengthy piece of special material from a 1963 Carol Burnett TV special, "I Died a Thousand Deaths" (Igor Peshkowsky), in which Preston comically detailed his lengthy B-movie career before he hit it big with The Music Man. If she wanted to do relatively obscure Preston, I'd rather have heard something from Ben Franklin in Paris, e.g., "Half the Battle" (Mark Sandrich Jr., Sidney Michaels) or "To Be Alone with You" (Herman). And while I'm caviling, replace "The Shady Dame from Brazil" (Henry Mancini, Leslie Bricusse) with an Axelrod/Cook duet on "You and Me," a much better song from Victor, Victoria."
Centenary
Don't Tell Mama – May 24, 31, June 3
Category: Reviews