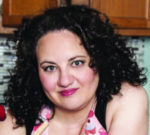 The first music we hear in Amy Wolk's new Duplex show is a snippet of the "Love Is All Around" theme from The Mary Tyler Moore Show. The singer arrives on the stage, kicking out one leg so that we can get a good look at one of her bright new Wonder Woman shoes. Then she and her background singers—Stefan Basti and Gerard Salvador—launch into a 1960s-ish mash-up of "(She's A) Sensation" (Pete Townshend) and "Hungry Like the Wolf" (Simon Le Bon, Nick Rhodes, John Taylor, Roger Taylor, Andy Taylor) but—as in her show's title—with the word "Wolf" replaced by "Wolk."
This show (directed by Lennie Watts) is Wolk's first new one in five years, and she is a delight and a half. Early on in the evening, she reestablishes her stage persona as a fun-loving but self-deprecating woman who seems never so at home as when she's bitching and moaning about life's irritations. She has now passed the "40" milestone, and she acknowledges that her life isn't yet all that it might be. But while she may be doing the same day jobs she did in her thirties, and her personal life may still largely consist of hanging out with her gay male friends, she's not unhappy with her lot. She's just merrily cranky about it.
The comedic aspect of her persona comes through blazingly, but we also see her more somber side, which helps put the comedy in relief. She seems to struggle, however, to keep her inner clown from getting the last word. For instance, on the night I attended, after an exuberant and funny "You're Moving Out Today" (Carole Bayer Sager, Bette Midler, Bruce Roberts), she gave us Zack Smith's thoughtful and melancholy "Goodbye to You." Together the two songs summed up the mixed blessing that comes from calling it quits on a defective love affair. But after the final notes of the second song, she delivered a deadpan punch line: "That song is actually about my relationship with cheese."
Throughout the evening, her voice is clear, high, and ringing. At times it can seem a bit shrill—but she often uses that shrillness for comic effect, when kvetching or scolding. (Perhaps she might consider dropping the key a tad on the ballads, as the notes in her lower register can be rich and appealing.) One song sung in full scold mode is the highly entertaining "I'll Title This Tomorrow," which she wrote with William TN Hall. (It's a variation on a routine she performed in her last show and again on the night she picked up her Bistro Award in 2014.) In it, she takes to task the writers of pop songs for their less-than-perfect grammar, logic, and moral uprightness. ("'She was just seventeen'? Underage!") Equally amusing is her rendition of Harold Arlen and Dorothy Fields's "Today I Love Everybody." Between verses she talks about the frustrations that come when working "front of house" in Broadway theatres. In the musical portions of the song, she tries to be patient and stay buoyantly upbeat, but the stories she tells of the inane yet hilarious remarks she's heard from customers wear her down—case in point, that guy who cited the memorable performance given by Nathan Hale in The Birdcage.
Wolk is a talented storyteller, and her anecdotes set up vivid images in the mind of the listener. For instance, on her pairing of "My Church" (Maren Morris) and "Drift Away" (Mentor Williams), she describes how she and fellow teenage Jewish girls would roll blithely through the mean streets of the South Side of Chicago while the latter song blasted. For me, the most effective number of the evening was her moving performance of Arlen and Johnny Mercer's "One for My Baby," sung in memory of a young bartender pal of hers who recently passed away. To hear the familiar lyrics in this new context is to hear them for the first time. It's heartbreaking. And, this time, Wolk didn't cap the song with a wisecrack.
Musical director and pianist for the show is Steven Ray Watkins, who is assisted ably by bassist Daniel Fabricatore and drummer Tim Lykins. Watching Watkins's body language and facial expressions, I got the sense that he is especially attuned to Wolk's sensibility. Likewise, Basti and Salvador are enthusiastic and lively team players.
Hungry Like the Wolk
The Duplex  –  October 1, 8, 15, November 12
Category: Reviews