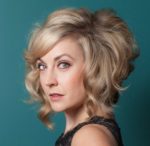 Amy Friedl Stoner's Dreamchaser at the Metropolitan Room was one of the most stylish, assured, intelligent, entertaining New York cabaret debuts I have had the pleasure to witness. Using an inspired and well-thought-out program of songs spanning Broadway, the Great American Songbook, country, folk, and contemporary, she filtered all selections through a singular vision and a charming on-stage persona, and interspersed them with brief but entertaining revelations about her "country cousin" experiences as a singer from Iowa making her way in New York City. The disparate repertoire was brought together seamlessly through her uncluttered yet elegant delivery. Long before the end of the delightful evening, it was clear that she could sing pretty much anything.
She staked her claim to the cabaret stage with her opener, a re-imagining of Gypsy's "Some People" (Jule Styne, Stephen Sondheim) that was so intimate and involving that I was almost disappointed when, at the end, it grew into a more familiar arrangement, but she pulled off the more legit sound just as successfully. On the other side of the musical spectrum, she included Prince's "Kiss" and made it a new generation's version of "Fever," having delicious fun with each seductive lyric. The folk/country echoes that ran through the show fit in beautifully. She inhabited Jason Robert Brown's "Another Life" in a way that recalled the best of Joni Mitchell. The show's title song, by Jeff H. Bullock and Brent Maher, was new to me but has stayed with me since the show. She was hilarious mining the humor of Michael Roulston's "Please Don't Hand Me Your Baby," a kind of newborn "Mrs, Worthington (Don't Put Your Daughter on the Stage)." Staying on the topic of children, she made "Dust Bowl" (Natalie Merchant, Rob Buck) a poor mother's Steinbeckian cry of despair that pierced the heart.
She handled standards like a veteran. She delighted with a breezy "Have You Got Any Castles, Baby?" (Richard A. Whiting. Johnny Mercer), then used a prologue of "'Round Midnight" (Thelonious Monk, Cootie Williams, Bernie Hanighen) to invest Cole Porter's "In The Still of the Night" with a haunting desperation I had never before experienced with the song.
My one real reservation was that, as with most cabaret vocalists lately, on occasion she slid into unnecessary, forced "big notes," held too long. I guess to some this may seem dramatic (and get a Pavlovian response from audience members) but for me it weakened what should have been strong moments by shifting focus to an almost athletic display of vocal rather than emotional power.
Her partner in all this musical wizardry, arranger/music director Rick Jensen, was at his very best, playing with a versatile mastery that matched the singer's. Lina Koutrakos's sharp, understated direction was another key element contributing to the show's success. Stoner ended her high-spirited encore of "Do Nothin' Till You Hear from Me" (Duke Ellington, Bob Russell) with a spoken "See you soon!" One can only hope that it's a promise she will keep.
Dreamchaser
Metropolitan Room – March 18
Category: Reviews