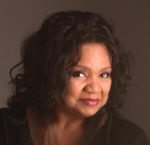 Singer-actress Aisha de Haas entitled her new show at Birdland The Music That Makes Me Dance, but it might have been more accurately titled The Music That Makes Me SING. Claiming to have been liberated from restrictive impressions of what cabaret should be by attending a recent Natalie Douglas show, she had filled this "hodgepodge" with songs that have had meaning to her at various times in her childhood and performing life. What we take away from this underlying premise is that each of the songs and singers she highlighted has helped to create the immensely entertaining performer we witnessed in the show.
She opened with a rare Stevie Wonder song, "The Real Thing," which immediately established her bursting musicality and captivating storytelling. "I Believe You" (Don & Dick Addrisi) was a classic take on Dorothy Moore's '70s hit and an example of the R&B roots that became inextricably entwined with the jazz standards and show tunes that filled her home growing up. Her "parents' music" was given an irresistible spotlight on "Ac-Cent-Tchu-Ate the Positive" (Harold Arlen, Johnny Mercer), which developed into an unusually lighthearted and satisfying arrangement; her attention to detail made even the most well-known lyrics fresh and new. The title song, if you will, "The Music That Makes Me Dance" (Jule Styne, Bob Merrill), showcased the singer's acting skills and theatre roots; after an involving verse, de Haas got deep into the romance in a way that rivaled my favorite take on the song, by Carmen McRae. That is not faint praise!
After nods to Aretha Franklin and Natalie Cole with a slyly erotic "Dr. Feelgood" (Franklin, Ted White) and a rocking "Pink Cadillac" (Bruce Springsteen), she took a deep dive into Thelonius Monk's "Ask Me Now" (lyric by Jon Hendricks) that revealed jazz chops to rival anyone currently at work on the scene. Concert touring introduced her to Brazilian music and she did a pairing of "Like a Lover" (Dori Caymmi, Nelson Motta, Marilyn & Alan Bergman) and "The Island" (Ivan Lins, Vítor Martins, the Bergmans) that grew into a smoldering, sultry wave of musical eroticism. Revisiting her first official demo tape, de Haas gave us a fiery "Love for Sale" (Cole Porter) with an electrifying instrumental break by her impeccable trio (music director James Sampliner on piano, Konrad Adderley on bass, and Jamie Eblen on drums).
By the time she got to her searing yet thoughtful account of "Yesterday, When I Was Young" (Charles Aznavour, Herman Kretzmer), she had invested so much in her performance, and the audience had made such an emotional investment in her, that she laid claim to a song that I (and many others) had considered the personal property of Lena Horne. It may have been Lena's once; it is now Aisha's. I was grateful that there was a napkin on the table to wipe away the tears. She brought the room right back up with a rollicking "You'll Have to Swing It (Mr. Paganini)" (Sam Coslow) in honor of Ella Fitzgerald.
Aisha de Haas is one of those singers that I wish I could lock into a studio for a few days and have her record all of my favorite songs. Until I win the lottery and can afford to do that, I hope that she will return to Birdland with more wonderfully personal music to share.
The Music That Makes Me Dance
Birdland – November 12
Category: Reviews